Come Join Us at the Santa Barbara Club on September 30th or Online on October 7th !
For our annual fundraiser, we are holding an in-person event for donors on Thursday, September 30th at 5 PM outside in the beautiful patio garden at the Santa Barbara Club. In addition, we are also holding a free, virtual fundraiser for the community on Thursday, October 7th at 4 PM. Both events will include an interview and discussion with Annabelle Gurwitch, a New York Times best-selling author, activist, and advocate who recently became a landlord to house a young couple living in their vehicle.
Annual Gala: Meet-and-greet, dinner, live interview, book-signing, and more. The interview is conducted with Beth Farnsworth, our community's award-winning journalist.
Virtual Event: Includes a never-before-seen interview created specifically for the event with Annabelle and her friend, Julie Bowen, a star in the wildly popular sitcom Modern Family.
Our goal is to educate landlords and community members about the ways they can support our clients and contribute financial support to continue this important work in Santa Barbara. We hope you can attend one or both events!
Annual Gala at the Santa Barbara Club
We are holding an intimate donor for supporters at the Santa Barbara Club on Thursday, September 30 from 5 to 7pm. The evening will include a meet-and-greet, dinner, interview, book signing, and more with Annabelle. The interview will be conducted by Beth Farnsworth. In addition, you will hear from one of our clients and enjoy live music and a night under the stars. We are selling individual tickets to attend the event at $250 per ticket.
In addition, we also offer sponsorship opportunities. If you know of any individuals or companies interested in sponsoring the event, please let us know. To ensure everyone is safe, we are capping the event to no more than 50 attendees and are requiring our guests are vaccinated. For event sponsors who cannot attend the in-person event, we are happy to deliver a special treat to your home for the online event.
Please contact Development Director, Michael Berton, at mberton@sbnbcc.org or at (805) 963-7777 x112.
Free Virtual Event with Julie Bowen
Why We're Holding our Fundraiser with Annabelle
We decided to invite Annabelle to be the special guest at our fundraiser after hearing her speak about her experience partnering with a nonprofit in LA to invite a young couple living in their car into her home. Last year, her op-ed in The Los Angeles Times about her experience was recognized with a Los Angeles Press Club Excellence in Journalism Award. Annabelle has teased us with the possibility of one of her dear friends in Hollywood coming up and interviewing her at the event. In addition, you will enjoy live music and a night under the stars! Annabelle's incredibly powerful (yet humorous) story about her own journey with addressing homelessness brings an enlightened perspective to the issue and insight for financial supporters and landlords who want to be part of the solution. To get her message across to as many people as possible, we will also be holding a virtual fundraiser with Annabelle, as a component of our annual event on October 7th. Please also note that due to COVID-related travel restrictions, we have again decided to postpone our event with British comedian Jonny Donahoe until next year.
Annabelle's Biography
Annabelle is the author of five books, a finalist for The Thurber Prize for American Humor Writing, and was the longtime co-host of Dinner & a Movie on TBS and a regular commentator on NPR. Her writing appears in the New York Times, Los Angeles Times, Los Angeles Magazine, WSJ, The New Yorker and Hadassah Magazine amongst other outlets. Annabelle's been featured on The Today Show, GMA, Real Time, CBS This Morning,  PBS Newshour, Oprah, amongst others.  She's been included in Time Magazine's annual "10 Ideas that are Changing the World" issue.
Annabelle was the seventh household to participate in a host home program sponsored by Safe Place for Youth in Los Angeles.  Her op-ed in The Los Angeles Times about the experience, included in You're Leaving When?, was recognized with a Los Angeles Press Club Excellence in Journalism Award in 2020. Annabelle is a tireless campaigner for addressing inequities in society. She aims to bring new energy, awareness, and funding to keep our neighbors from falling into homelessness. The two things she looked forward to the most after being vaccinated were standing in the crowded line at her local Jeni's Ice Cream without worry, and returning to her volunteer work with unhoused youth.
She co-hosts the weekly Tiny Victories podcast which Vulture calls "a bright spot of light and laughter."  The show celebrates small mercies and minor joys, but her greatest joy comes from finding new ways of being useful to her community and the world at large.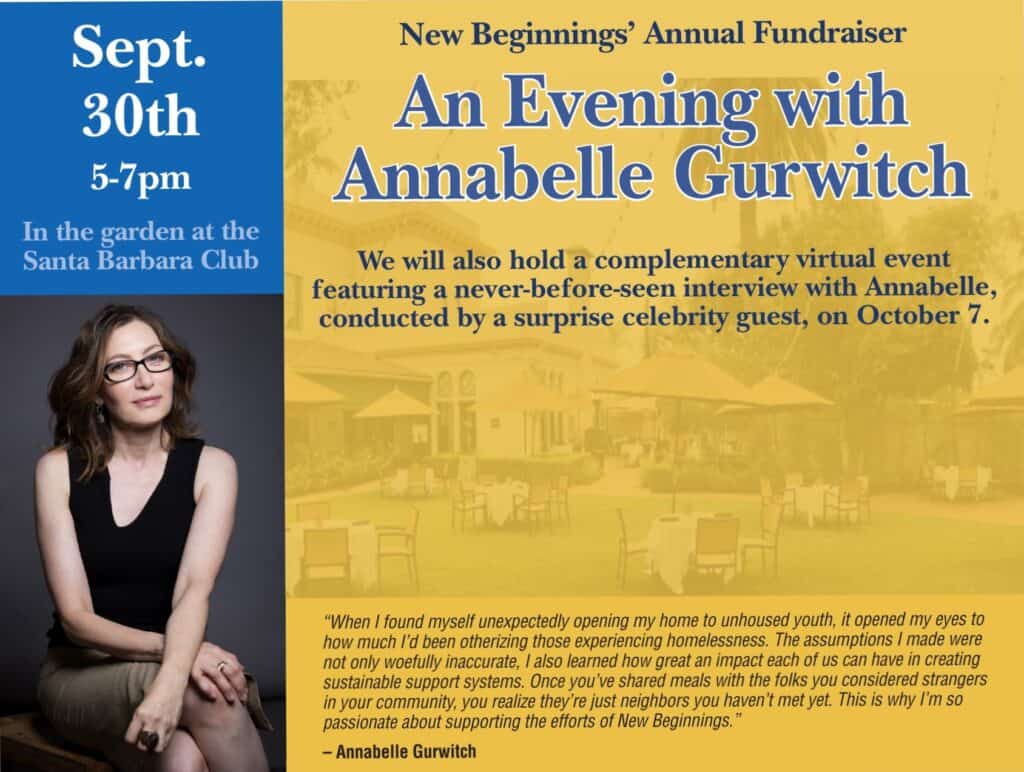 Thank You to Event Sponsors
Thank you to our current sponsors for this event:
Novella Sponsor
Coeta and Donald Barker Foundation
Susan Rose
Zegar Family Fund
Byline Sponsor
Amy and Glenn Bacheller
Liz and Andrew Butcher
Case Family
Dan and Emily Engel and Santa Barbara Venture Partners
Jackie and Paul Kurta
Feature Sponsor
Anonymous
Bruce Corwin and Metropolitan Theatres
Santa Barbara City College
City National Bank
El Encanto a Belmond Hotel