Diane Pannkuk, M.B.A.
President
Diane Pannkuk is a recognized community leader in Montecito, and has had an extensive vocation in volunteerism.
She received her B.A in Communication at UCLA and an M.B.A. from George Washington University.
During her professional career, Pannkuk served as a contract negotiator the United States Department of Defense and as President of the Silver Creek Corporation.
In 2010, Pannkuk was honored by the Montecito Association with the award of "Montecito Association Citizen of the Year." She lives in Montecito with her family.
Jacqueline Kurta, Psy.D, M.F.T
Vice President
Jaqueline Kurta is a Licensed Marriage and Family Therapist specializing in work with adolescents, college-age young adults and families, particularly focused on challenges involving alcohol, drug and other addictive behaviors. She is the Director of the UC Santa Barbara Alcohol and Drug Program and maintains a private practice in Santa Barbara. She provides clinical supervision services for Casa Serena, a Santa Barbara residential treatment program for women, and also serves as adjunct faculty for Antioch University's Santa Barbara campus.
Kurta has B.A in English from Tufts University in Boston; an MA in Clinical Psychology from Antioch University in Santa Barbara; and a Psy.D in Marriage and Family Therapy from Ryokan College in Los Angeles. She was awarded Outstanding Chapter Leader for the California Association of Marriage and Family Therapists (CAMFT) in 2009 while serving as Co-President of CAMFT Santa Barbara Chapter. She has also been a guest lecturer for Pacifica Graduate Institute, offering presentations on crisis management and response for the clinical and counseling programs.
Ziad Elkurjie
Treasurer
Ziad Elkurjie has been a technology executive and entrepreneur in Santa Barbara and Silicon Valley for 20 years. He attended the University of Toronto for his training in Computer Science and Economics.
Elkurjie has been involved in numerous startup companies from inception through mergers and acquisition phases.  He brings a pragmatic and structured approach to business development and market opportunities.
Elkurjie has lived in Santa Barbara for 14 years with his wife and 3 kids.  He is a Math Enrichment coach at Mountain View Elementary School and serves on the Advanced and Gifted Learning Committee with the Goleta District Board of Education.
Terence Ford
Board Member
Born to a family of actors, Ford is a Chicago native who spent several years working as an actor in Chicago at Second City. Terence worked for 20 plus years in commercial photography and the film industry in Los Angeles, and is a member of the Directors Guild of America and the Screen Actors Guild. After marrying his wife Kathryn, the two settled in St. Helena in the Napa Valley where Terence worked as a commercial photographer for many of the prominent wineries in the Valley.
During his time in Napa, Terence began teaching digital photography to OIF/OEF wounded veterans at The Pathway Home in Yountville. In 2012, Lt Col. James Fullwood invited Terence to present his program, fStop Warrior Project, at the Wounded Warrior Battalion West at MCB Camp Pendleton. The program's digital photography lab was embedded in the Battalion's Alpha Company BEQ for over three years.
Since retiring from the Battalion at the end of 2015, Ford has worked to develop a peer-to-peer support program (Fellowship of Brothers) for Gulf War and post 9/11 (OIF/OEF) veterans at the Santa Barbara Veterans Memorial Building.
Dan Engel
Venture Partner, NGEN, Board Member
Dan Engel has been a B2B and B2C software entrepreneur since 1997. He was formerly CEO & Co-Founder at FastSpring, a leading e-payment platform and 4-time winner of The Silver Stevie Award for "Customer Service Department Of The Year". Prior to FastSpring, Engel led online customer acquisition/advertising for Google during its IPO phase. He has appeared in various publications, including Entrepreneur Magazine, Forbes & The Wall Street Journal. He graduated Tulane University in 1998 with a degree in Finance.
Engel has been an active angel investor, advisor, and/or board member at Apeel Sciences (food waste), SafeGraph (geospatial data), Blue Triangle Technologies (performance optimization), Rincon Venture Partners, TechStars, TrackStreet, Mobile1st, Directional Cue, Allergease (natural medicine) and others. Locally, Engel also works with Home For Good to help place homeless people from Santa Barbara into permanent housing. He spends much of his free time with his beautiful wife and two children.
Guy Smith, M.A.
Board Member
Guy Smith is the Executive Director of SynED, a non-profit organization providing professional services to higher education. Prior to that he was a faculty member and Vice President at Antioch University Santa Barbara. From 1976 until 2010, he was a faculty and Dean at Santa Barbara City College, where he was responsible for the administration of the Business Division, the Scheinfeld Center for Entrepreneurship and Innovation, and the School of Media Arts. Actively involved with the online information industry since its inception, he established Infomart Research, the first online information brokerage in California. As co-founder of Intellimation, a multimedia publishing company, he worked with software developers, publishers and content providers to distribute multimedia applications.
For the past 15 years, Smith has managed and developed projects under national and state grant funding, which focus on new media production, e-commerce and distribution, mobile media, and the use of game technologies in providing training and education. He also currently serves on the board of the MIT Enterprise Forum. Smith has lived in Santa Barbara for 40 years and is an active member of the community. He has been married to his wife Carola twenty–seven years with two children, Justin and Britta.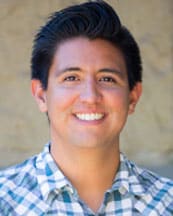 Mark Cardona
Cardona Law, Board Member
Mark Cardona is a commercial transactions attorney with a private practice based in Santa Barbara. He enjoys volunteering in the Central Coast community to support causes that offer services for mental health, education, and under-served populations. Cardona received his undergraduate degree from UCSB and law degree from the University of La Verne College of Law. He enjoys spending his free time with his wife and dogs.