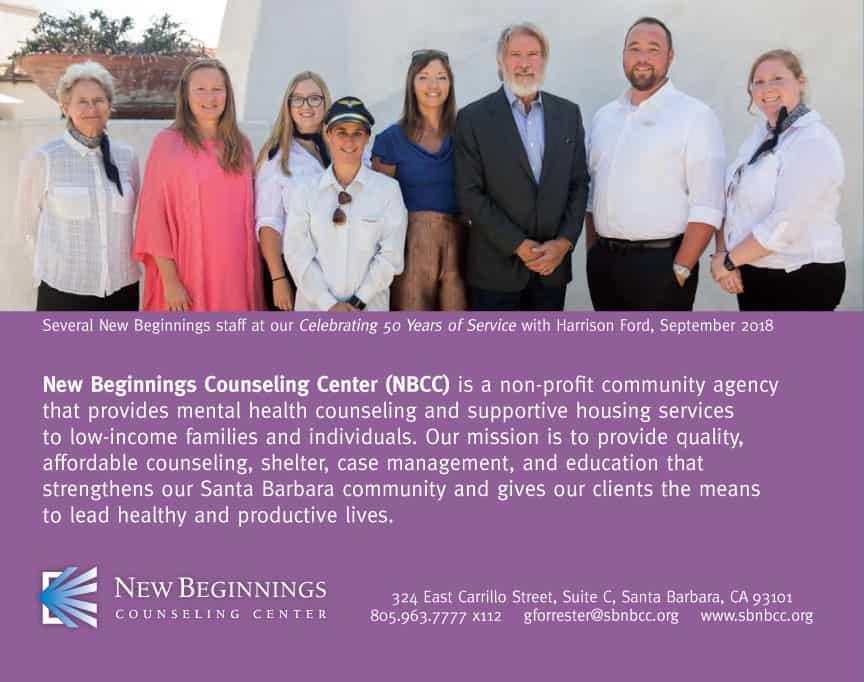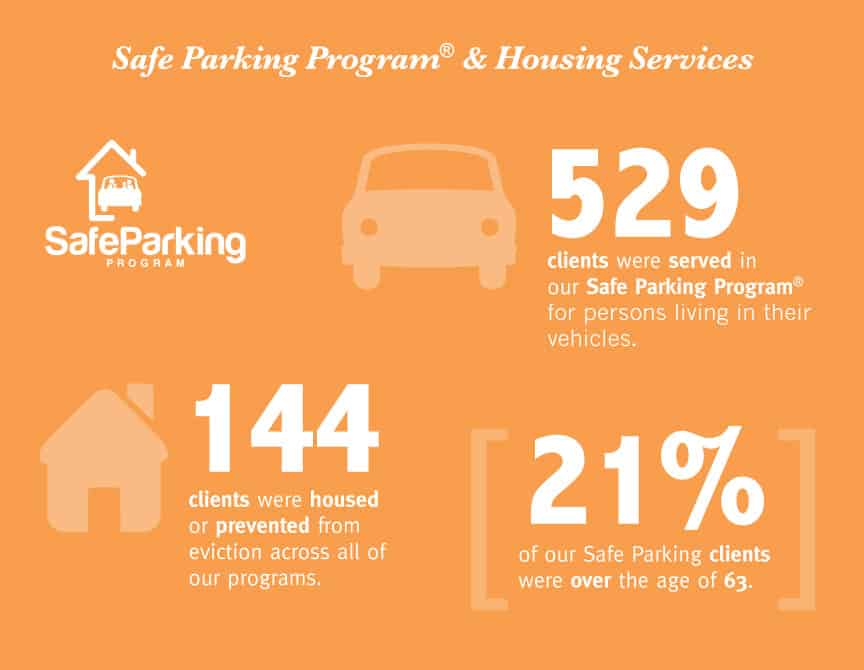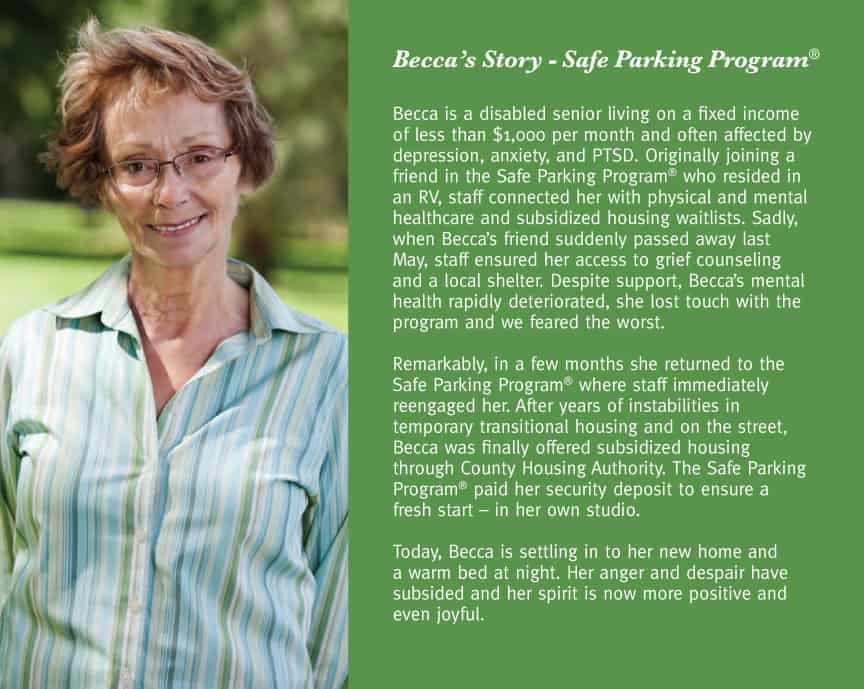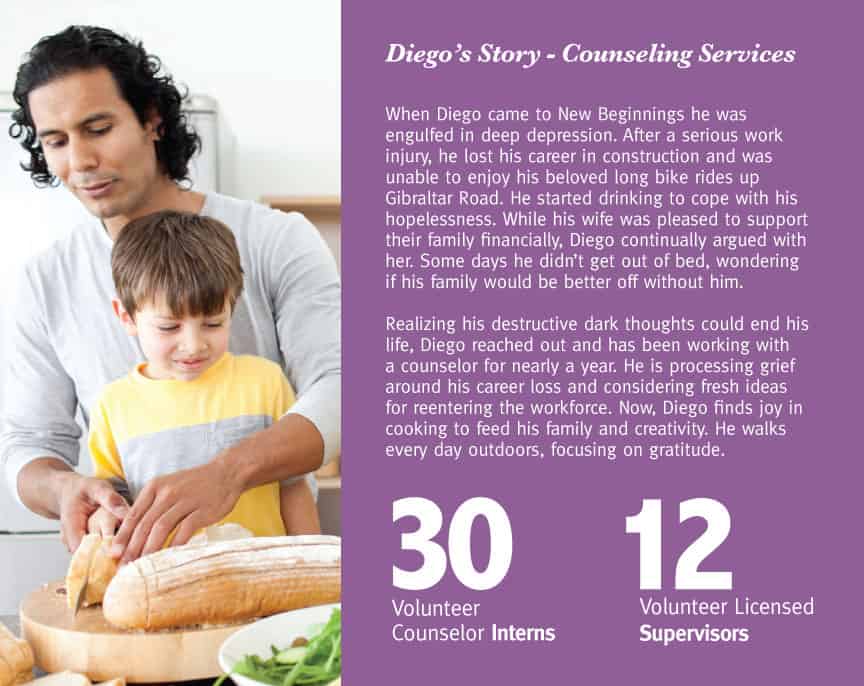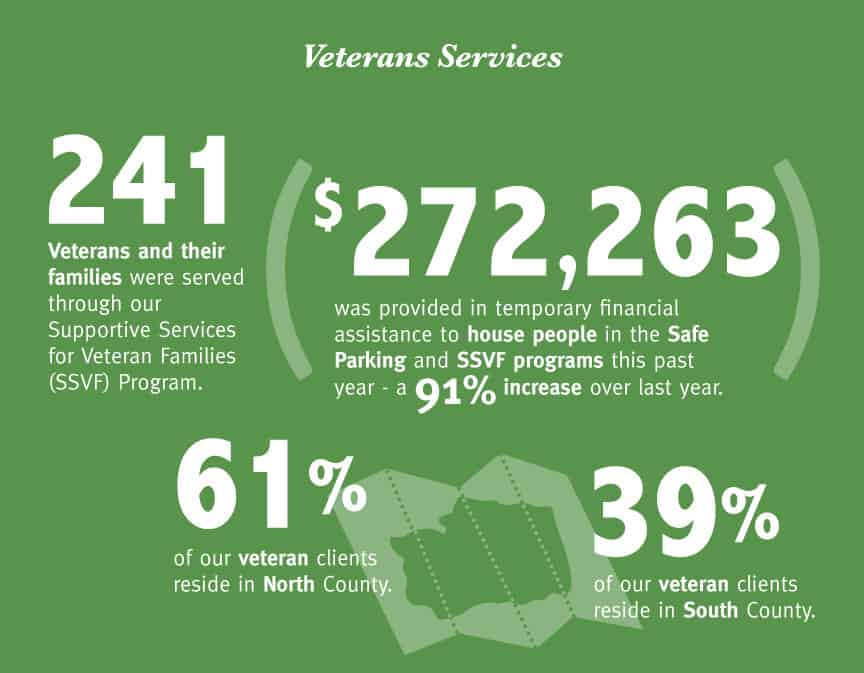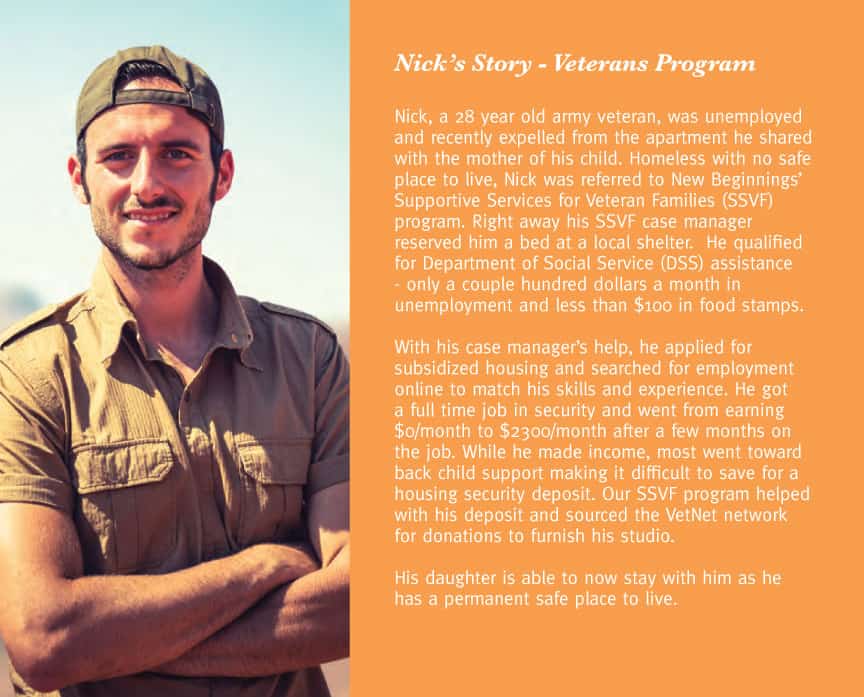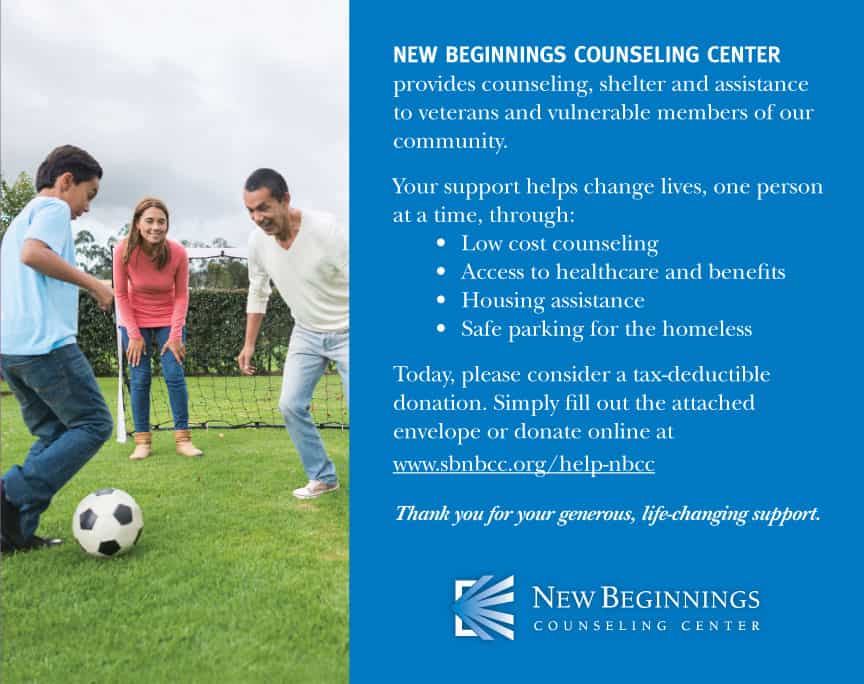 ---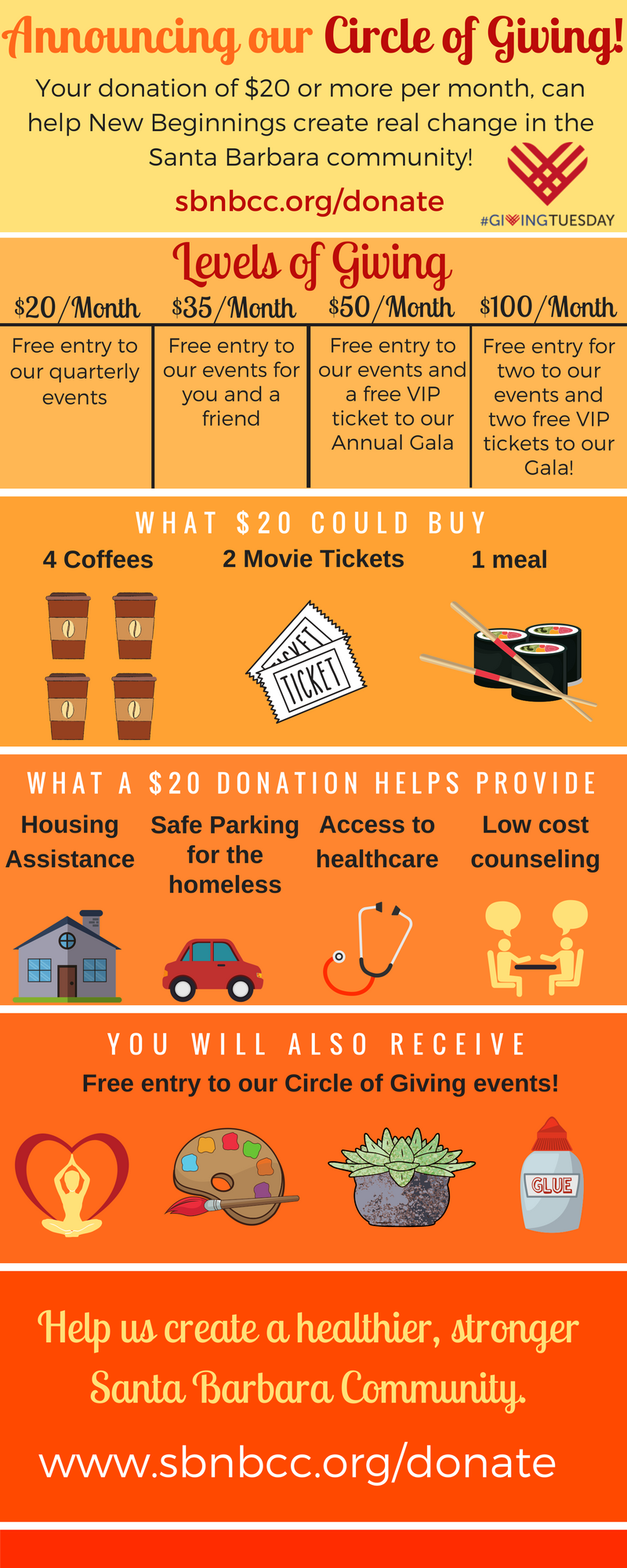 Last year, New Beginnings reached 2,174 County residents, provided 12,804 case management and counseling hours and housed or prevented eviction for 260 people. Our counselors and program staff provide psychological counseling and supportive services to low-income families and individuals in the Santa Barbara Community.
Imagine being in your 70's and having too many health issues to continue working, but not enough income to pay for housing in the community you've lived in your whole life. Or being laid off in your 40's with two small children and unable to find another job before you run out of savings. You eventually get desperate enough to take a few low-paying jobs but end up living in your car for a few months with your children while you save up enough to pay for rent and the security deposit on an apartment.
New Beginnings serves clients dealing with these challenges and more on a daily basis, providing them with the security and support they need to focus on rebuilding their health and their lives.
Hear what our clients are saying:
"I remember that first day [ in the car] really well. It was scary, depressing, and really… I just kept thinking, 'How could this have possibly happened to you,' and this mantra in my head just repeated over and over 'I wanna go home.' And I just kept avoiding this one thought in my head that said, you know, 'Please. You don't have a home to go back to.'… I think about it all the time, and I believe it's gonna happen, and I am willing to keep going until it does. There's no point in stopping here."  -Ms. C
"I had no idea what a dark place I was in. I was so focused on trying to survive; I had tunnel vision, and was not even enjoying anything about life. I was in a very dark place and did not even know how depressed I was until I had this chance to get a place of my own and started coming out of my depression. This assistance truly saved my life." –Mr. B
To donate to  New Beginnings, please click here:
Help us change lives today…
Help New Beginnings to prevent evictions and house people through our homeless programs, and provide access to counseling services for everyone, regardless of their ability to pay through our counseling programs. Our clients are given referrals for services and government assistance, as well as receiving help in searching for jobs and affordable housing.
20% of our budget each year ($238,000 in FY '15-'16!)  is spent in direct financial assistance for housing costs and other vital services in the community to assist our clients.
Your gift will be used to support programs such as our low-cost counseling clinic and our Safe Parking program. It's thanks to donors like you that we are able to keep these programs going.
New Beginnings Counseling Center is a 501(c)3 charitable organization serving the residents of Santa Barbara County. We serve low-income families and individuals, veterans, and the homeless and housing insecure in our community. New Beginnings connects individuals and families with the supportive services they need to get them back on track to become contributing members of our community. Your donation today is tax-deductible to the fullest extent allowable by law. Thank you!
---
Support New Beginnings
New Beginnings runs the Safe Parking program in Santa Barbara County, a model program serving the vehicular homeless that is being looked at as an example by many large cities across the nation. We were recently featured on KCET's SoCal Connected:
https://www.kcet.org/shows/socal-connected/simple-solution-to-help-the-homeless-0
Homelessness is still a big issue in Santa Barbara County, and our Safe Parking Program provides a safe place to sleep at night for over 135 people and helps clients locate housing and employment as well as facilitating access to services.
Help out today with a donation by adopting a spot for $2500, sponsoring a Safe Parking client for $250 or helping us provide food and gas cards for $50.  Thank you for supporting New Beginnings and your community.
---
---
HOW TO DONATE
You can make a donation for any amount by mailing a check to our clinic at:
New Beginnings Counseling Center 
Attn: Office Manager
324 East Carrillo Street, Suite C
Santa Barbara, CA 93101
Alternatively, you can donate securely online by credit card or bank account, via PayPal, using the link below:
---
NBCC'S VOLUNTEER NEEDS
Find our most current volunteer needs on Volunteer Match!
New Beginnings Counseling Center on Volunteer Match
Special Event/ Fundraising Support
Help New Beginnings leading up to and on the day of our events to ensure everything runs smoothly.
Social Media/Website Interns
View Intern Descriptions:
Social Media Intern Position Description
Web Design Intern Position Description
For interest in any of the above volunteer opportunities, please call or write to our Development Office:
Development and Community Relations
805-963-7777 ext 112
General Administrative/Office Support Volunteers for our Counseling Office.
Assist our Clinic and Office Staff with administrative and/or data entry tasks for our counseling clinic, development office, or Safe Parking office. Obtain experience working in a nonprofit, counseling, and office environment.
For interest in providing administrative office support for our agency or counseling clinic, please contact our Development and Communications Manager
Development and Community Relations
805-963-7777 ext 112
---
NBCC IN-KIND WISH LIST
For Safe Parking and Homeless Outreach Program: Grocery Store Gift Cards, Veterinarian Gift Certificates, Packaged food and socks for street outreach. Bicycles and bus passes for our clients. Automobile Repair/Mechanic Gift Certificates,
For Counseling Clinic:  Paint, drapery & wall hangings, wall art, indoor plants, plant stands, area rugs, new/gently-used office and living room furniture for individual therapy rooms and administrative offices. Locking file cabinets for administrative use. Newer Windows desktop or laptop computers.
For Community Relations Outreach: Raffle and auction items for fundraising events.
---
New Beginnings Counseling Center is a 501(c)3 charitable organization serving the residents of Santa Barbara County. Your donation today is tax-deductible to the fullest extent allowable by law. Thank you for your support!