A Spectacular Evening Under the Stars!
New Beginnings held their annual fundraiser at the West Wind Drive-In on Thursday, October 22, 2020. We showed the 1991 comedy-drama film The Fisher King, written by Richard LaGravenese and directed by Terry Gilliam. Starring our local celebrity Jeff Bridges, Robin Williams, and Mercedes Ruehl, the film chronicles a radio shock jock as he finds redemption by helping a man whose life he inadvertently shatters. The film conveyed the compassion and hope that aligns beautifully with our work and helped community members reflect upon how trauma and mental illness impacts each one of us. The evening directly benefited New Beginnings' programs, services, and clients, enabling us to remain accessible to all.
Part of our mission is to provide education to the community. We have integrated this into our fundraising efforts by leveraging theater, cinema, and the arts for our fundraisers over the past several years. Approximately 200 community members attended the evening. Prior to the film, New Beginnings showed the two animated short films – Hair Love and French Roast, as well as an agency video highlighting the work of staff and volunteers and a never-before-seen panel interview featuring Richard LaGravenese and Mercedes Ruehl! Additionally, New Beginnings gave away prizes to its attendees; one of the prizes included a weekend getaway to Pine Mountain!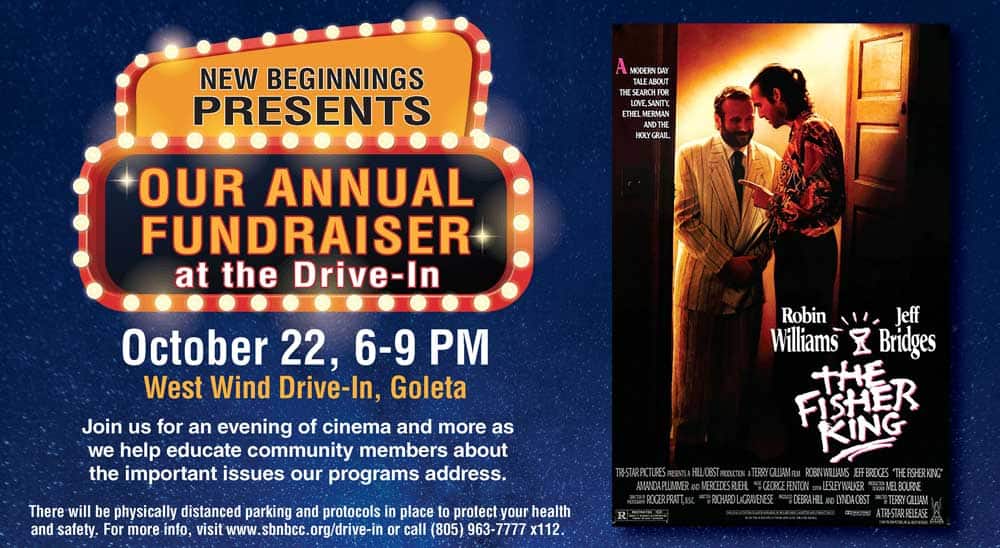 Interview Chronicling Our Work This Year
CinemaScope Sponsor:
The Coeta and Donald Barker Foundation
Technicolor Sponsors:
The Lehrer Family
Lloyd and Richard Dallett
BlockBuster Sponsors:
Anonymous
Deirdre and Will Arntz
Glenn and Amy Bacheller
Lalla and Rinaldo Brutoco
Jackie and Paul Kurta
and Charlie and Eileen White Read