New Beginnings Counseling Center Receives Outstanding Community Partner Award: Housing Authority of the City of Santa Barbara Recognizes Long-Time Partner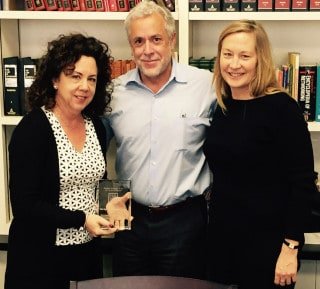 (SANTA BARBARA, Calif.) – The Housing Authority of the City of Santa Barbara awarded local non-profit New Beginnings Counseling Center with its prestigious 2014 Outstanding Community Partner Award. Robert G. Pearson, Executive Director and CEO of the Housing Authority presented the award to the non-profit's Board of Directors' President, Diane Pannkuk and Executive Director, Kristine Schwarz, at the agency's January board meeting.
"The Housing Authority of the City of Santa Barbara is lucky to have New Beginnings as a partner agency in service to our low income households in the community," shared Mr. Pearson. "Their counseling programs are outstanding—providing everything from one-on-one counseling to our senior clients in distress to young mothers and fathers who need help in developing their parenting skills. We have worked with New Beginnings for over six years and are continually impressed with the quality of their staff, program and services. They help us be "more than just housing" to low income seniors, disabled persons and families in Santa Barbara."
New Beginnings staffs the Supportive Services Program for the Housing Authority. The goal of the Supportive Services Program is to improve the quality of life of low-income families and individuals, with an emphasis on promoting independence, well-being, and self-sufficiency. New Beginnings provides more than two thousand case management hours each year through the program working to connect clients to housing, healthcare, counseling, employment services, senior services, and in-home supportive care. More than just bricks and mortar, the program was first designed by the Housing Authority as a rare innovation focused on the success of its residents. New Beginnings also provides housing case management assistance through its Safe Parking and Supportive Services for Veteran Families Programs.
"New Beginnings is honored to be recognized for the agency's efforts to help the most vulnerable among us to thrive," says Ms. Schwarz. "I am so proud of the dedication, commitment and work ethic of our staff and of our partners at the Housing Authority." Feedback from the Housing Authority's staff who all voted on the award recipient includes, "They do a spectacular job in their field of work. Not only do they help, but they do it with compassion and patience for our clients" and "New Beginnings has been a close partner of the Housing Authority. They also do a lot in the community to help vulnerable populations including veterans and those living in their vehicles. They are an excellent partner and deserving of our recognition."