Mission statement:
New Beginnings Counseling Center's mission is to provide quality, affordable counseling, shelter, case management, and education that strengthens our community and provides our clients with the ability to lead healthy and productive lives.
About New Beginnings:
New Beginnings Counseling Center (NBCC) is a nonprofit mental health center that provides psychological counseling and supportive services to low-income families and individuals in the Santa Barbara community.
Vision:
We strive to be recognized as a leading organization that meets the shifting needs of our community through our superior clinical training program and focused supportive services, delivering exceptional outcomes cost effectively.
NEW BEGINNINGS MANAGEMENT TEAM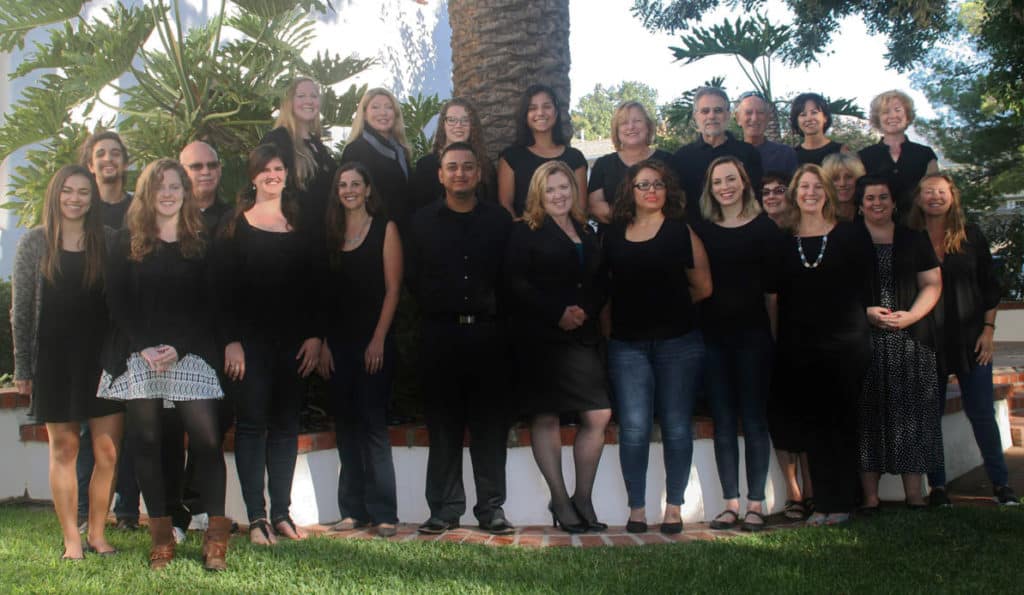 ---
Kristine J. Schwarz, MA, MFT, LPCC
Executive Director
kschwarz@sbnbcc.org
Kristine Schwarz, MA, MFT is a seasoned executive and psychotherapist who brings extensive experience building organizations and managing multi-faceted projects in both the non-profit and for-profit sectors, and considerable experience as an educator and clinician. Kristine is also a former entertainment industry executive with 13 years of experience developing film and television projects internationally. She received her MA from Antioch University Santa Barbara and has worked locally as a therapist at Domestic Violence Solutions, the COPE program at Cottage Hospital, Full Spectrum Recovery, Goleta Valley Union School District, and Working Alternatives. She maintains her psychotherapy private practice, Santa Barbara Psychotherapy.
Prior to joining New Beginnings, Kristine was Associate Director of Institutional Advancement at Antioch University Santa Barbara.  She also served as Core Faculty and Clinical Director of Antioch's Master of Arts in Clinical Psychology Program where she founded the MFT Consortium of the Central Coast Region, and served as the Central Coast Chair of the MFT Leadership Collaborative and Chair of Antioch's Alumni Association Steering Committee.
Kristine began her career as a media buyer in Washington, D.C., working with clients such as the Wolf Trap Center for the Performing Arts, before moving to Los Angeles in 1987, when she joined the Walt Disney Studios. She received her undergraduate degree in Marketing and Advertising from the S.I. Newhouse School of Public Communications at Syracuse University.
---

Crystal Ramirez, PhD, MFT

Clinical Director
cramirez@sbnbcc.org
(805) 963-7777 ext 125

Crystal Ramirez has a wide variety of clinical, supervisory, and management experience in the community, most recently from the Santa Barbara County Department of Behavioral Wellness, where she worked as Regional Manager, Team Supervisor of CARES South, and Practitioner on the Homeless Outreach and Justice Alliance teams.
Dr. Ramirez has also served as a Clinical Supervisor at the Salvation Army, worked as the Assistant Manager of Mountain House at Crescend (formerly Phoenix), and been a lead counselor and Children's Program Clinical Coordinator at Domestic Violence Solutions.
Dr. Ramirez holds a Marriage and Family Therapy license and has a B.A. in Sociology and Psychology from UCSB; a Masters in Counseling Psychology from Pacifica; and a Doctorate in Depth Psychology with Emphasis in Psychotherapy from Pacifica. Her dissertation research focused on the subjective experiences of people with psychotic disorders and has been presented at professional conferences internationally and domestically.
---
Gabriella Forrester
Development Coordinator
gforrester@sbnbcc.org
(805) 963-7777 ext 112
Gabriella graduated in March 2016 from the BA program at Antioch University Santa Barbara, where she studied Business and Education from a social justice perspective. Gabriella has been involved in the nonprofit sector since 2013 and has a passion for helping others to reach their highest potential. She frequently volunteers and assists with nonprofit fundraisers in Santa Barbara and is excited to bring her tools and experience towards building the New Beginnings fundraising base in the Santa Barbara area. In her free time, Gabriella enjoys staying active and is an avid rock climber, salsa dancer and Acroyoga instructor.
---
Leah Combs
Office Manager
lcombs@sbnbcc.org
(805) 963-7777 ext 111
Leah Combs has been a passionate social activist from an early age, volunteering with many non-profit organizations in her native Oakland East Bay Area. She holds a BA in English Literature and Psychology from California State University, San Luis Obispo. She is formerly staff of the Santa Barbara Rape Crisis Center and Counseling and Psychological Services (CAPS) at UCSB, and has a strong passion for working to raise awareness of mental health services and issues in the Santa Barbara community. Leah also currently serves as the Secretary on the Board of Directors for World Dance for Humanity (WD4H), a Santa Barbara-based nonprofit that supports small, sustainable grassroots projects locally and in the developing world. Leah has worked with WD4H since April 2011.
---
Erika Brittain
Clinic Services Manager
ebrittain@sbnbcc.org
(805) 963-7777 ext 128
Erika is finishing up her bachelor of arts degree at the University of California, Santa Barbara majoring in psychology. She just recently returned home from studying abroad in Ghana where she interned at a special needs school working primarily with children with autism. Along with this she has served as a research assistant at the Koegel Autism Center at UCSB. She has a strong passion for psychology and helping others. In her spare time she loves to dance, do yoga, make crafts, and go to the beach.
---
CLINIC SUPERVISORS
Dean Janoff, PhD
Dr. Dean Janoff is a licensed Psychologist and Marriage and Family Therapist in clinical practice, training mental health professionals, and teaching and supervising psychology graduate students in Santa Barbara since 1974. Dr Janoff's clinical and consulting experience covers a wide-range of settings; private practice; K-12 schools; social service programs; acute-care medical facility; medical staff-Cottage Hospital; organizational development programs with small to large public, private, non-profit, and start-up businesses; Lompoc Federal Correctional Institution – mental health intern; professional monitoring services and group therapist with mandated physicians, pharmacists, dentists, physical therapists and attorneys with significant mental health problems; and the development of therapeutic experiences in natural settings – outdoors, at the boundary of self and environment.
Dr. Janoff's current private practice specialties include: anxiety disorders, couples and family therapy, group therapy, and organizational consulting. Theoretical orientations are gestalt, systems, experiential, behavioral and interpersonal neurobiology.
Dr. Janoff's past academic administrative, faculty and teaching positions include: Antioch University Santa Barbara (adjunct, core faculty, chair of graduate psychology); Fielding Graduate University (faculty-group psychotherapy post-graduate training program, adjunct faculty –organizational management and development master's program; Director of master's programs – school of human and organizational development); Pacifica Graduate Institute (adjunct faculty – clinical psychology doctoral program); UCSB (clinical supervisor- clinical/counseling psychology doctoral program); Santa Barbara Graduate Institute (adjunct faculty – clinical psychology doctoral program), and the Gestalt Training Center of Santa Barbara (teaching and training faculty).
---
Paul Guido, PhD
A native of Los Angeles, Dr. Paul Guido studied English literature at the University of Southern California before earning Master's and Doctoral degrees at the California School of Professional Psychology. Over the subsequent 30 years he practiced individual and group psychotherapy, at one time serving clientele in both Los Angeles and the Santa Barbara area. A Montecito resident, Dr. Guido currently practices and mentors interns exclusively in the Santa Barbara area."
Dr. Guido is a Santa Barbara Museum of Art docent, and has served on the museum's docent board for four years. He currently serves on the Board of the Music Academy of the West, and volunteers as the on-call counselor for the Academy Fellows during the summer Program.
---
Miranda Field, MFT
---
Victoria Rightmire, LMFT
Victoria Rightmire, LMFT received her M.A. in Clinical Psychology from Antioch University Santa Barbara and has been licensed as a Marriage and Family Therapist since 2007. She has served clients in the Santa Barbara community through her work at agencies such as Zona Seca, Cottage Hospital Drug Treatment Court, Domestic Violence Solutions for Santa Barbara County, the Community Counseling and Education Center, and the Council on Alcoholism and Drug Abuse.She is currently Director of the SAVE Employee Assistance Program where she provides assessment and referral services and facilitates trainings on topics such as Workplace Harassment Prevention, Cultural Sensitivity and Respectful Workplace Practices. She is a member of the California Association of Marriage and Family Therapists (CAMFT) at both the state and local level. She provides clinical supervision to interns and trainees at New Beginnings and the Council on Alcoholism and Drug Abuse and maintains a private psychotherapy practice.Prior to becoming the Director of SAVE, she had just completed her 12th year as an adjunct faculty member at Santa Barbara City College, where she taught English as a Second Language. She has traveled extensively overseas, teaching English in Japan and Costa Rica and has trained aspiring teachers through the Oxford Seminars Teacher Training Certificate Program. Her undergraduate degree is in Performing Arts with a Concentration in Music Theory and Composition, and in her free time she can still be found playing her Martin D-18.
---
INTERNSHIPS
The dedicated group of intern counselors who are completing their training before becoming licensed as clinical psychologists or marriage/family therapists are truly the heart and soul of New Beginnings. These doctoral and graduate level professionals provide individual, group, couples and family counseling to the diverse group of people who make use of our services. The interns are trained and guided by experienced clinical supervisors. Supervisors meet weekly with the intern staff members. They provide technical assistance, guidance and support, advanced training, and feedback to the counselors for whom they are responsible. The Center is supported by community volunteers who assist in the clinic's many activities. Well respected graduate schools in the Southern California area have placed their students with us, including Pacifica Graduate Institute, Antioch University Santa Barbara, UCSB, and Cal State Lutheran.
New Beginnings Counseling Center provides a well-respected, rigorous training program for both MFT and PhD level interns. Our clinical training program prepares our interns for practice as licensed professionals. In addition to providing individual and group supervisions, NB schedules an advanced clinical training each month. Instructors are experienced clinicians in the community, presenting from their specialized areas of expertise and theoretical orientation. The trainings are specifically targeted to assist counselors with the populations we serve and the issues our clients present.
New Beginnings Counseling Center appreciates the valuable contributions of our interns to the success of our programs. We do not charge interns anything on an ongoing basis; we do charge a one-time administrative fee of $150. Applicants are accepted year-round, according to the clinic's needs.
How to Apply:
Please send a cover letter and resume. hr@sbnbcc.org
Please also download and print the application:
Internship Application (PDF)