We have postponed this fundraiser until further notice. We are still planning to hold the fundraiser as soon as we are able to. Please check back on this page frequently for updates. We are still very much in need of sponsorships for our annual fundraiser because they provide us with unrestricted funding that is crucial in allowing us to sustain our general operations each year. To learn more about our sponsorship opportunities, please view the information at the bottom of this page. Thank you to our current sponsors:
Understudy Sponsor: Hon. Susan Rose
Dramatist Sponsor: Maryan Schall
Dramatist Sponsor:
When we are able to do so, we are tremendously pleased that we will be hosting the British comedian Jonny Donahoe, who will perform his award-winning one-man show called Every Brilliant Thing. The day after our major fundraiser, we will also be offering a matinee performance of the show for community members and our nonprofit partners.
Jonny Donahoe's one-man show, Every Brilliant Thing, (which he co-wrote and originally performed) is one of the funniest and most heart-warming performances you will ever see about a boy growing up in the wake of his mother's mental illness. The show has played more than six hundred times on four continents, including five months off-Broadway at the Barrow Street Theater. Every Brilliant Thing has been replicated by dozens of comedians throughout the world, and HBO has even produced a documentary special about the performance. We are very fortunate to bring the co-creator and original performer of Every Brilliant Thing to Santa Barbara and are excited to share this once-in-a-lifetime opportunity with our donors and community members.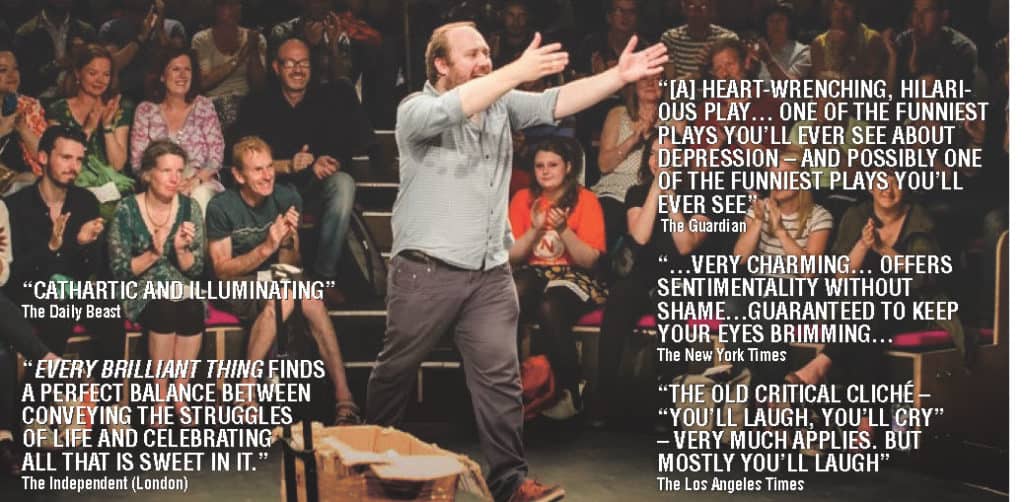 Our purpose is to engage the public to confront important social issues in our community and to help break the stigma associated with mental health disorders. Sponsors of the evening will also be invited to an intimate dinner beforehand at Bouchon with Jonny Donahoe and to the reception after the performance. The evening will directly benefit New Beginnings' programs, services, and clients, enabling us to remain accessible to all.
We invite you to please consider supporting the work we do by reviewing the sponsorship benefits below. Please contact Michael Berton, our Development Manager at 805-963-7777 x112 or at mberton@sbnbcc.org to arrange payment or to answer any questions. We deeply appreciate your consideration.