NEW BEGINNINGS BASKS IN NATIONAL PRESS
New Beginnings Counseling Center's Safe Parking Program Featured in
Rolling Stone Magazine Article on 'Recession's Middle Class Casualties'
New Beginnings Counseling Center once again receives national attention for its Safe Parking Program™ which helps middle class families struggling to regain their footing in today's difficult economy. The program's unique approach to dealing with homelessness maintains its commitment to helping the homeless find housing and employment.
The Safe Parking Program™, often regarded a model program by international media examining the homelessness crisis, has been featured by NBC Nightly News, NPR, PBS, CNN, People Magazine and the Larry King Show. "Our mission," says Executive Director Kristine Schwarz "is to provide the support services necessary for all members of our community to thrive. This particular program aims to empower the non-traditional homeless and provide the level of stability they need to make positive change."
"The individuals and families who are served by the Safe Parking Program™ are not only homeless," adds Roslyn Scheuerman, one of the program's two case managers. "They are refugees from the American Dream." The program, founded in 2004, provides case management and outreach to the homeless population and safe overnight parking to individuals and families living in their vehicles. In 2010-2011, the program served over 800 people. "The Cities of Santa Barbara and Goleta and the County of Santa Barbara have been tremendously supportive of the program since its inception," said Schwarz. "Without government contracts and grants, the program would be without funding."
The article entitled "The Recession's Middle-Class Casualties," can currently be found  at www.rollingstone.com
---
NEW BEGINNINGS IN THE NEWS
New Beginnings Counseling Center and its programs have been featured locally in print, online and broadcast media and nationally on NBC Nightly News, NPR, PBS, CNN and even the Larry King Show, among others.
Below are links to recent articles.
Please contact Executive Director, Kristine Schwarz, with all press and media inquiries.
---
March 2007 ABC News – In Wealthy Santa Barbara, Some Call a Parking Lot Home
July 2008 People Magazine Article, A Place to Call Home
October 2008 AARP-bulletin-Why Are More Older Americans Sleeping in Their Cars
April 2012 Goleta Likely to Allow RV Camping
May 2012 Santa Barbara Independent – Evicted Low Income Tenants Look for New Homes
September 2012 Expensive Cities Allowing People to Sleep in their Cars
November 2012 NoozHawk – Housing Authority Program Helps Local Families Achieve 'Self-Sufficiency'
April 2014 – National Veterans Foundation, New Beginnings — Program Provides Assistance to Veteran Families in Danger of Losing Housing 
October 2014 – Aljazeera America — Mobile homes: Many 'hidden homeless' Americans living in vehicles
November 2015 – Montecito Journal — 30 Beautiful Years
December 2015 A Home for the Holidays: Santa Barbara County non-profits strive to house homeless veterans
May 2016 Los Angeles Times – A Santa Barbara 'safe parking' program for homeless people may be coming to L.A
July 2016 Santa Barbara Independent, New Beginnings Counseling Center and Lois Capps Salute Each Other
July 2016 NoozHawk, New Beginnings Counseling Center Salutes Congresswoman Lois Capps
July 2016 NoozHawk, New Beginnings Counseling Center Pays Tribute to Rep. Capps, Photos From the Event
August 2016 NoozHawk, St. Francis Foundation Awards $940,000 in Grants for Community Health to 18 South Coast Nonprofits
August 2016 Montecito Journal, New Beginnings Salute
August 2016 – California Health Report, Safe Parking Programs Offer a Respite for the Homeless
September 2016 – NoozHawk – VetNet Collaboration Helps Local Veterans Access Crucial Resources 
September 2016, NPR, For Some Seniors Without Housing, A Parking Lot Is Home
September 2016 – Santa Barbara Independent, Nothing EZ About Living In an RV
October 2016 Long Beach Post- "Safe Parking" Study Aimed at Vehicle-Dwelling Residents Approved by Long Beach City Council 
October 2016 Montecito Journal, Changing Lives
October 2016 NoozHawk, Santa Barbara Votes to Ban On-Street parking for Oversized Vehicles Including RVs
October 2016 Santa Barbara Independent, Santa Barbara Bans RV Parking: Council Adopts Citywide Ban on RV Parking
October 2016 Santa Barbara News-Press, Homeless Veteran Out of Luck Even Before RV Ban Corrected
October 2016 NoozHawk — New Beginnings Counseling Center Celebrates Mission of Changing Lives at Annual Gala
October 2016 NoozHawk, New Beginnings Counseling Center Honors 'Community Champions" Gary and Mary Becker
November 2016 Keyt- Safe Program Extends Helping Hand to Seniors Living in their Cars
December 2016 The Nation – Homeless in the Shadow of Santa Barbara's Mansions
December 2016 Capital & Main- Video: Safe Parking for Santa Barbara's Homeless 
January 2017 NoozHawk – Santa Barbara's New Oversized Vehicle Committee Discusses Enforcement, Daytime RV Parking Options
January 2017 NoozHawk- Project Seeks Better Access to Health Care for MediCal Recipients
---
 PRESS RELEASES

---
August 2016 – Salute to Lois Capps
---
New Beginnings Counseling Center Receives
Outstanding Community Partner Award
Housing Authority of the City of Santa Barbara Recognizes Long-Time Partner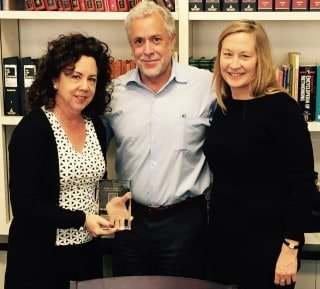 (SANTA BARBARA, Calif.) – The Housing Authority of the City of Santa Barbara awarded local non-profit New Beginnings Counseling Center with its prestigious 2014 Outstanding Community Partner Award. Robert G. Pearson, Executive Director and CEO of the Housing Authority presented the award to the non-profit's Board of Directors' President, Diane Pannkuk and Executive Director, Kristine Schwarz, at the agency's January board meeting.
"The Housing Authority of the City of Santa Barbara is lucky to have New Beginnings as a partner agency in service to our low income households in the community," shared Mr. Pearson. "Their counseling programs are outstanding—providing everything from one-on-one counseling to our senior clients in distress to young mothers and fathers who need help in developing their parenting skills. We have worked with New Beginnings for over six years and are continually impressed with the quality of their staff, program and services. They help us be "more than just housing" to low income seniors, disabled persons and families in Santa Barbara."
New Beginnings staffs the Supportive Services Program for the Housing Authority. The goal of the Supportive Services Program is to improve the quality of life of low-income families and individuals, with an emphasis on promoting independence, well-being, and self-sufficiency. New Beginnings provides more than two thousand case management hours each year through the program working to connect clients to housing, healthcare, counseling, employment services, senior services, and in-home supportive care. More than just bricks and mortar, the program was first designed by the Housing Authority as a rare innovation focused on the success of its residents. New Beginnings also provides housing case management assistance through its Safe Parking and Supportive Services for Veteran Families Programs.
"New Beginnings is honored to be recognized for the agency's efforts to help the most vulnerable among us to thrive," says Ms. Schwarz. "I am so proud of the dedication, commitment and work ethic of our staff and of our partners at the Housing Authority." Feedback from the Housing Authority's staff who all voted on the award recipient includes, "They do a spectacular job in their field of work. Not only do they help, but they do it with compassion and patience for our clients" and "New Beginnings has been a close partner of the Housing Authority. They also do a lot in the community to help vulnerable populations including veterans and those living in their vehicles. They are an excellent partner and deserving of our recognition."